An investigation has been launched after video emerged showing a Seattle police officer rolling his bicycle over a protester's head.
In the footage, taken during protests in Seattle early on Thursday morning, an officer is seen pushing his bicycle's front and rear tires over a person lying in the street.
The same officer then appeared to push away another person using his bike.
Police quickly formed a line as officers swarmed around the protester.
The man who filmed the incident, Joey Wieser, tweeted that police were "out of control."
Newsweek subscription offers >
It was unclear whether the person was staging a protest by lying on the ground or was on the floor due to an injury. Their identity and condition are not known.
Newsweek subscription offers >
The officer, whose identity has not been disclosed, has been placed on leave.
The Seattle Police Department (SPD) has referred the incident, which happened at approximately 2.40 a.m. on Thursday, to the King County Sheriff's Office for a potential criminal investigation.
In a statement, the SPD said it was "notified of an incident where, on video, it appears an SPD officer walked the wheels of his bicycle over an individual lying in the street."
The statement added: "Immediately after being made aware of this incident, SPD activated the Force Investigation Team (FIT) to document and investigate the use of force–as required by policy—and alerted the Office of Police Accountability (OPA), which also responded to the scene.
"During the course of the demonstrations, which escalated from property damage to assaulting officers, SPD officers made more than a dozen arrests."
Police called on the community "to encourage peaceful protests and conversation, and bring an end to continued destruction and violence."
The Seattle OPA said it had received more than 30 complaints relating to the incident.
According to the Seattle Times, police had earlier used pepper spray, blast balls and impact munitions during a standoff with protesters.
Demonstrations triggered by the killing of George Floyd have been held in Seattle for more than 100 days.
Police have faced criticism for their handling of the protests, including an incident earlier in the summer in which pepper spray was used on a child.
The incident came on the same night demonstrators were filmed attacking an officer with a baseball bat and cone.
Footage showed the officer being struck on the back of the head with a metal bat after he fell from his bicycle. The officer's helmet was cracked but he sustained only minor injuries.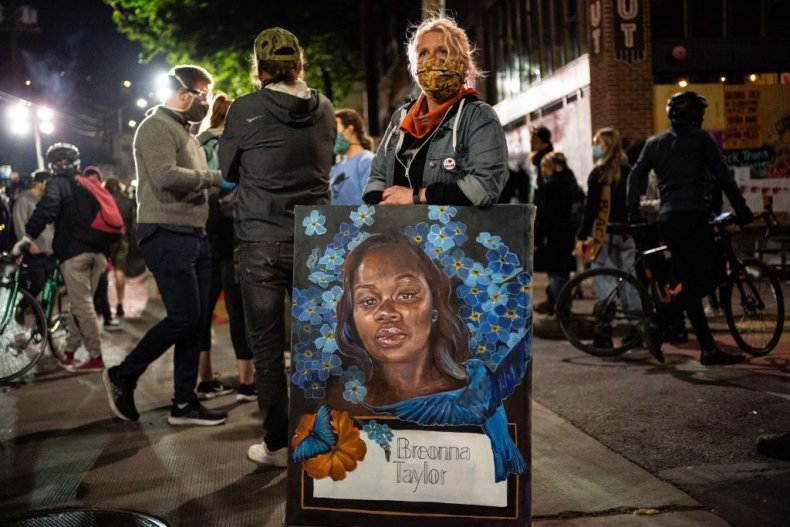 Protests erupted in Seattle and many other U.S. cities on Wednesday after a grand jury in Kentucky decided to indict only one of three officers in the case of Taylor, a 26-year-old emergency medical technician, who was fatally shot by police inside her apartment during a no-knock drugs raid on March 13.
Newsweek contacted the Seattle Police Department for comment.